Jan 30, 2006
Battle Scars: The War Within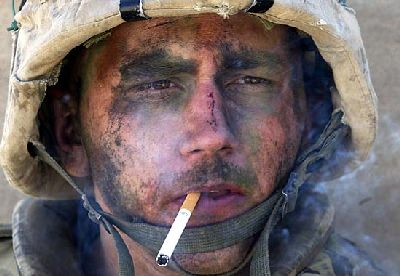 Washington Post: San Francisco Chronicle: The photograph hit the world on Nov. 10, 2004: a close-cropped shot of a U.S. Marine in Iraq, his face smeared with blood and dirt, a cigarette dangling from his lips, smoke curling across weary eyes.
It was an instant icon, with Dan Rather calling it "the best war photograph in recent years." About 100 newspapers ran the photo, dubbing the anonymous warrior the "Marlboro Man." | story
Powerful stuff.
Wait, before you go…
If you're reading this, you probably already know that non-profit, independent journalism is under threat worldwide. Independent news sites are overshadowed by larger heavily funded mainstream media that inundate us with hype and noise that barely scratch the surface.  We believe that our readers deserve to know the full story. Truthdig writers bravely dig beneath the headlines to give you thought-provoking, investigative reporting and analysis that tells you what's really happening and who's rolling up their sleeves to do something about it.
Like you, we believe a well-informed public that doesn't have blind faith in the status quo can help change the world. Your contribution of as little as $5 monthly or $35 annually will make you a groundbreaking member and lays the foundation of our work.
Support Truthdig