Jul 2, 2013
Andrew Sullivan: Catholics Should Be OK With Gay Marriage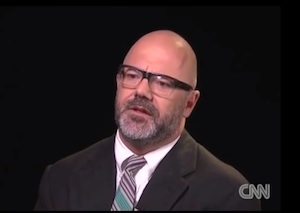 If the Catholic Church doesn't have a problem with divorce, it shouldn't have problems with gay couples getting married either, Andrew Sullivan told CNN's Fareed Zakaria on Sunday during a discussion about the Supreme Court's same-sex marriage rulings last week. Sullivan, who is gay and a practicing Roman Catholic, argued that even though divorce is frowned upon in the Bible, Catholics are accepting of the fact that people get divorced. By extension, he says, they should accept the rights of gay and lesbian couples to wed.
"I would say the religious arguments are more based in fear than in the actual teachings, that they're based upon stray texts that actually don't mean what you think they mean, and that Jesus himself only said one thing about marriage, which is that you can't divorce," he said. "And we live in a country where countless people are divorced and that doesn't seem to threaten the religious liberty of Catholics, and it's as fundamental an issue."
He added, "So if Catholics can live with religious liberty with divorced people, they should be perfectly able to live with gay people, I mean, as married, as a civil marriage."
— Posted by Tracy Bloom.
Wait, before you go…
If you're reading this, you probably already know that non-profit, independent journalism is under threat worldwide. Independent news sites are overshadowed by larger heavily funded mainstream media that inundate us with hype and noise that barely scratch the surface.  We believe that our readers deserve to know the full story. Truthdig writers bravely dig beneath the headlines to give you thought-provoking, investigative reporting and analysis that tells you what's really happening and who's rolling up their sleeves to do something about it.
Like you, we believe a well-informed public that doesn't have blind faith in the status quo can help change the world. Your contribution of as little as $5 monthly or $35 annually will make you a groundbreaking member and lays the foundation of our work.
Support Truthdig