Andrew Sullivan: Catholics Should Be OK With Gay Marriage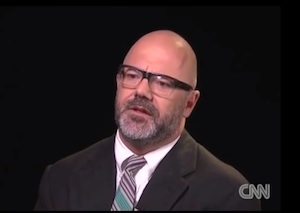 If the Catholic Church doesn't have a problem with divorce, it shouldn't have problems with gay couples getting married either, Andrew Sullivan told CNN's Fareed Zakaria on Sunday during a discussion about the Supreme Court's same-sex marriage rulings last week. Sullivan, who is gay and a practicing Roman Catholic, argued that even though divorce is frowned upon in the Bible, Catholics are accepting of the fact that people get divorced. By extension, he says, they should accept the rights of gay and lesbian couples to wed.
"I would say the religious arguments are more based in fear than in the actual teachings, that they're based upon stray texts that actually don't mean what you think they mean, and that Jesus himself only said one thing about marriage, which is that you can't divorce," he said. "And we live in a country where countless people are divorced and that doesn't seem to threaten the religious liberty of Catholics, and it's as fundamental an issue."
He added, "So if Catholics can live with religious liberty with divorced people, they should be perfectly able to live with gay people, I mean, as married, as a civil marriage."
— Posted by Tracy Bloom.
Assistant Editor
Tracy Bloom left broadcast news to study at USC's Annenberg School for Communication and Journalism. There she eventually became deputy editor of Neon Tommy, the most-trafficked online-only college website in…