Apr 24, 2015
An 80-Proof Solution to Multiple Sclerosis?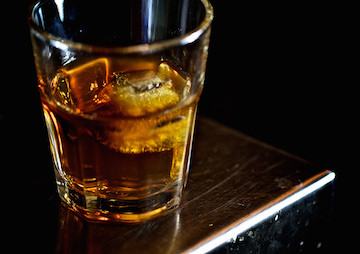 Sufferers of multiple sclerosis who consumed hard liquor experienced a degree of relief from disability, researchers report.
The effect was observed as a desirable drop in scores on the Expanded Disability Status Score system. The study's leader, Dr. Camilo Diaz-Cruz of Brigham and Women's Hospital in Boston, said that beer drinkers also had lower scores but that consumption of red and white wines had no measurable effect.
MedPage Today reports:
… [Dr. Camilo Diaz-Cruz] and colleagues calculated that, among patients in the cross-sectional study reporting that 80-proof liquor was their favorite alcoholic beverage, each 1-serving/week increase in alcohol consumption was associated with a 31% reduction in odds of having a 1-point EDSS increase (OR 0.69, 95% CI 0.57-0.84, P=0.0002) in a proportional odds logistic regression model, Diaz-Cruz said. …

In reporting the findings, Diaz-Cruz noted that some previous studies, including two large case-control analyses from Sweden, had also suggested some kind of protective effect of alcohol on risk of developing MS. But other investigations (such as the long-running Nurses Health Study I) have not confirmed those results. No previous clinical studies had addressed possible alcohol effects on established MS, he said.

But, he added, some research has suggested that alcohol can interfere with certain immune pathways, which at least in theory could inhibit disease processes in an autoimmune disorder such as MS.

Only prospective longitudinal studies can answer the question fully, he concluded.
Read more here.
— Posted by Alexander Reed Kelly.
Wait, before you go…
If you're reading this, you probably already know that non-profit, independent journalism is under threat worldwide. Independent news sites are overshadowed by larger heavily funded mainstream media that inundate us with hype and noise that barely scratch the surface.  We believe that our readers deserve to know the full story. Truthdig writers bravely dig beneath the headlines to give you thought-provoking, investigative reporting and analysis that tells you what's really happening and who's rolling up their sleeves to do something about it.
Like you, we believe a well-informed public that doesn't have blind faith in the status quo can help change the world. Your contribution of as little as $5 monthly or $35 annually will make you a groundbreaking member and lays the foundation of our work.
Support Truthdig