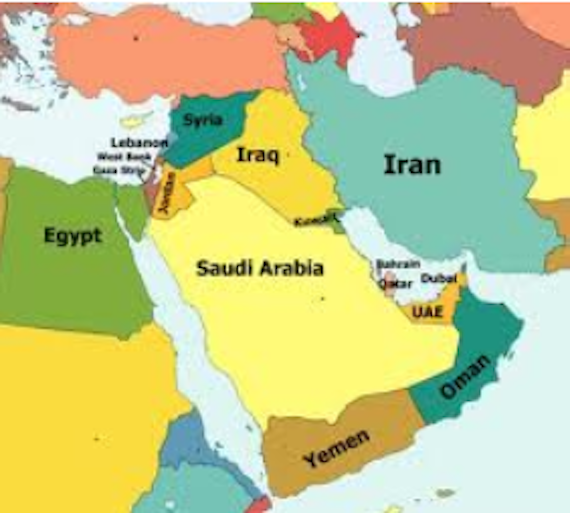 The Middle East is not very important to the US by most objective measures. We only do $220 bn in trade with 47 Muslim-majority countries, with only Iraq standing out among them as our 6th-largest trading party (Bush and Cheney finally got their petroleum imports from that country). With the onrush of green energy and the prospect of electric vehicles replacing internal combustion ones over the next decade and a half, the relative importance of the Middle East to US trade will decline radically over the next 15 years. In contrast, we do $579 bn in trade a year with China alone. And we do about $1.1 trillion in trade with Europe. We are up to 15% renewable energy in the US, and when it is 100% and we all have electric cars, most of us won't care more about the Middle East than we do about South America (about which we almost never hear on the news except for uppity Venezuela, which also has petroleum).
The far, far right wing Israeli government's increasingly brazen colonization and annexation of the Palestinian West Bank is causing a great deal of trouble. Trump is encouraging them in this dangerous course. As the promises of Oslo recede, the two state solution has become definitively unrealistic. There really are only a few end games possible here. Either there can be a South Africa-style Apartheid regime, with the Israeli army ruling stateless Palestinians for many decades; or the Palestinians could be ethnically cleansed, in which case over time Europe would likely pick up several million new residents; or there could be a binational federal state of what Moammar Gaddafi used to call Isratine. The first, a long-term Apartheid, is the most likely near to medium term outcome, given the weakness of the Palestinians and of their so-called allies and given that the superpowers either actively support Israel in this scheme or are unwilling to expend political capital to halt it. But Apartheid is also the least stable outcome and will continue to feed anti-Americanism and terrorism. Trump's especial coddling of the expansionist and authoritarian Israeli far right, paralleled only by his esteem for Vladimir Putin, is extremely dangerous in this context. Ironically, the colonization project in the West Bank strengthens Iran in the region, so Israel creates its own worst enemy.
Although the Washington think tanks and the Trumpian circle in DC are obsessed with Iran's influence in the Middle East, they are exaggerating. Morocco, Algeria, Tunisia, Libya, Egypt, Sudan, Jordan, the West Bank, Saudi Arabia and the Gulf, and Turkey are entirely independent of Iran and Tehran has almost no influence in any of them where it is not actively despised. Iran is influential in Iraq, Syria and Lebanon. But Lebanon is a small country of 4 million with no hydrocarbons and a gross domestic product of $50 bn. (similar to Bulgaria and Croatia). And it isn't exactly hostile to the US, despite a cabinet that tilts toward Hizbullah and Iran (some of these politicians are Christians). Syria is a small war-racked country of 18 million and 11 million internal refugees, has no resources to speak of, has an army of perhaps 50,000 men and is just not important. Iraq is the only important asset of Iran by the economics and demography, but it is simultaneously an American ally with a 6,000-strong American troop presence and a US command.
Although the inside-the-Beltway people are always shouting about Iranian backing of terrorism, it is difficult to discern any Iran-backed terrorism of any significance in the past decade. The trick is that the Wonks consider the Iraqi militias (alongside whom US forces fought ISIL in Iraq) and Hizbullah (the major activities of which have been to fight in Syria, often against al-Qaeda and ISIL) as "terrorists." The US corporations have been defunding public education so that the American public cannot tell the difference between Sunni or Shiite and when they hear Iranian terrorism they assume that Tehran is blowing up Paris.
Iran for some reason is a useful bogeyman, but it has a military budget the size of Singapore's and it is difficult to see any way in which it significantly affects US interests in the region in any negative way. Israel and Saudi Arabia see it as a budding regional hegemon and are afraid of it, but many of their concerns are vapor and paranoia, or mere reflections of their own actions. They keep complaining about Iranian influence in Yemen, but little is visible while Saudi Arabia and Trump have bombed that poor country back to the stone ages. So who is having the significant impact on Yemen? And despite the propaganda making Hamas ten feet tall, it isn't as close to Iran as it used to be and it is signalling that it has failed to administer Gaza and is negotiating to have the secular PLO come back in and take over. The Palestinians of Gaza are two million poverty-stricken captives of the Israelis, who keep them in an open air prison and they pose no significant challenge to Israel, Iranian help or no.
In 2014, security in the Fertile Crescent collapsed with the rise of the phony "caliphate" of the so-called Islamic State group, or ISIL or Daesh. A lot of breathless pundits made this emergence of a rogue state more important than it was. I called it a flash in the pan from the beginning. The Iraqi government was not going to cede 40% of its territory to 25,000 extremists hyper-Wahhabis. Damascus was not as much in a hurry to take back the distant and unimportant eastern desert from ISIL, especially since it was fighting other rebels, but it wouldn't leave them there forever. Moreover, the regional and international security environment was unfriendly to ISIL survival. Iran did not want it there. Russia did not want it there. The United States and NATO did not want it there.
ISIL also gets the 2018 Darwin Award for stupidest human organization on earth (and it has a lot of competition). It is a terrorist organization and attacked Paris and Brussels. But it was also a state with a return address. Terrorist organizations are weak, and terrorist tactics are a sign of weakness. The only advantage they have is that they do not have a return address, so they can strike much stronger foes and then fade away. (The US never has found Ayman al-Zawahiri, who killed nearly 3,000 Americans, though for reasons known only to Washington there doesn't seem to be a manhunt for him.) But the Daesh leaders announced a capital, and had a state house where they met, and *then* they attacked Paris with terrorism. What do you think France would do to them (and French fighter jets played a bigger role in rolling up Daesh in eastern Syria than was usually reported)? Hence, Darwin award. It has devolved back into a terrorist organization and hasn't disappeared, but its resources have diminished by 98% and those policy wonks in DC who hope to go on making a living analyzing it should start studying Korean or something.
The US has largely ceded Syria to Russia as a sphere of influence, and Russia gives every sign of settling in for a long military presence there. This is a defeat for those in Washington who wanted regime change in Damascus, but it is not clear that it adversely affects US security per se. The Baath regime or the al-Assad family fief is weak. Syria has no resources to speak of (it was pumping 400,000 barrels a day of petroleum in the good old days, but that is like the Bakken fracked field in the US. Saudi Arabia has don 11 and 12 million barrels a day).
The one bit of unfinished business of the US in Syria is the 2,000 special operations forces embedded with the left-anarchist YPG Kurds in the Jazira region and now Raqqa province. Damascus will want the Jazira back, since it is prime farmland, and besides, states resist loss of territory. Turkey doesn't want the YPG to control territory because Ankara sees them as an affiliate of the PKK (Kurdistan Workers Party), which Turkey and the US view as a terrorist organization. The YPG is not without links to the PKK but they aren't the same and don't have a common line of command, and the US doesn't agree with Turkey's analysis.
The best case scenario for the leftist Kurds is that Syria moves away from a French-style unitary state to a form of less centralized federalism. The Kurds might be able to live with a Federal Syria where they have a lot of regional prerogatives. Russia has made noises about this sort of settlement but it is resisted by the Baath Party, which is an old Stalinist-style one-party state (though in tatters after the civil war).
The Syrian Kurds were dealt a serious blow by the Iraqi government reassertion in Kirkuk and its boycott along some dimensions (air travel e.g.) of the Kurdistan Regional Government in northern Iraq. The Kurds in general have been weakened. And Turkish president Tayyip Erdogan is waging a violent war of suppression against Turkish Kurds.
It will be very difficult for the US to retain troops in northeastern Syria in the long and perhaps even the medium term, and that they might be hit in a 1983 Beirut-style attack cannot be ruled out.
The Da'wa (the Shiite "Islamic Call") Party in Iraq is firmly allied with Iran. Trumpian, Saudi and Israeli hopes of delinking the two are forlorn. Neither the Sunni Arab population (which may be only 15% of the country) nor the Kurds (22%?) are a match for the Iraqi national army and its Shiite militia auxiliaries and Iranian advisers. The Iraqi Shiites have come out of the last three years stronger than ever before and have no obvious challengers. Whether they are up to the challenge of uniting Iraq is unclear, and it is that question the raises security concerns for the US.
If you did not assume that US interests in the Middle East required rolling back the regional influence of Iran, the situation would not obviously be alarming. Syria is economically and geopolitically unimportant. Iraq has turned insular (save for Iraqi Shiite militia activity in Syria in support of the regime), and if what the US wants is for Iraq to produce its 3 mn. barrels a day of petroleum, they can probably be relied upon to do so. I love Lebanon but it is poorly governed and its government is weak and it is not a challenge to the US in any way, despite Hizbullah political influence.
Among the biggest challenges in the region is the continued lack of Foreign Direct Investment and consequent high unemployment among members of the youth bulge, which help account for some of the turmoil the area has seen in recent years. Another is the tendency toward authoritarianism, in Egypt, Turkey, and Saudi Arabia, a tendency that is like putting a lid with no escape valve on a pressure cooker. Trump's love of strong men militates against his ability to ameliorate that situation.
——
Related video:
CGTN: "Iraq invites foreign companies to build new Kirkuk export pipeline"